Forex Heat Map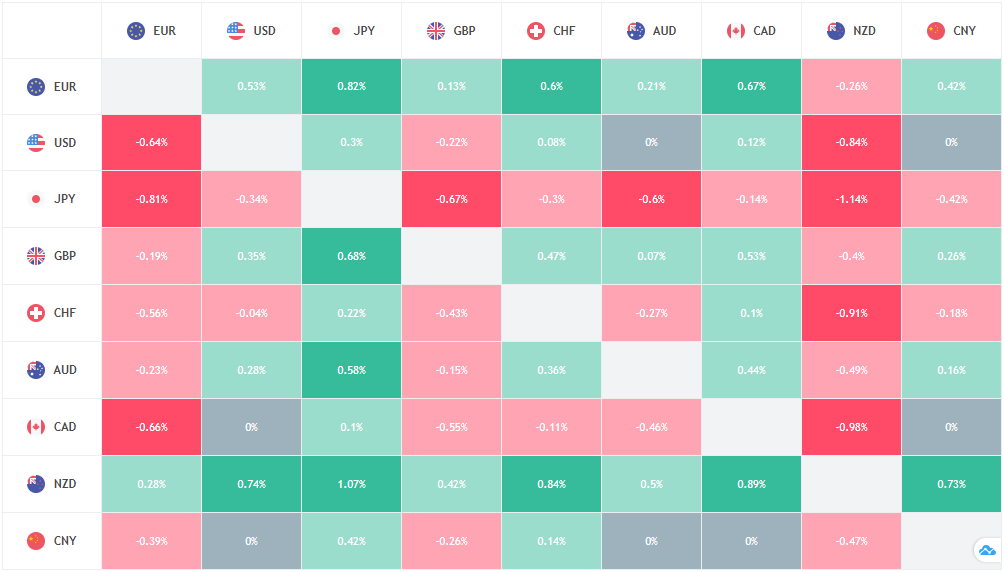 The Forex Heat Map tool is a table that allows us to visualize the performance of a currency against another currency in real-time, by measuring the daily change of two currency pairs in percentage and colors.
How does it help us?
While we consider to buy or sell a specific currency, we will want to measure his performance against other currencies, sometimes, we can assume that one currency value will increase against another currency, this could be different if we decide to trade against other currency.
We can trade Forex only as a pair of currencies,
An exchange rate is a price at which two currencies can be exchanged against each other.
For example- The USD(U.S Dollar) went down by -0.68% against the EUR(Euro), and on the same day, the USD went up by 0.3% against the JPY(Japanese Yen).
==>Click Here to use Forex Heat Map tool<==
---
How to read the Forex Heat Map
The left column represents the base currency, and the top raw represent the quote currency. We will always trade on the base currency against the quote currency.
For example GBP/USD – the base currency is the GBP and the quote currency is the U.S. dollar.
---
Heat Map Colors
Green– represents an increase of the base currency value against the quote currency.
Red– represent a decrease of the base currency value against the quote currency.
Grey– neutral, no change of the base currency value against the quote currency.
Example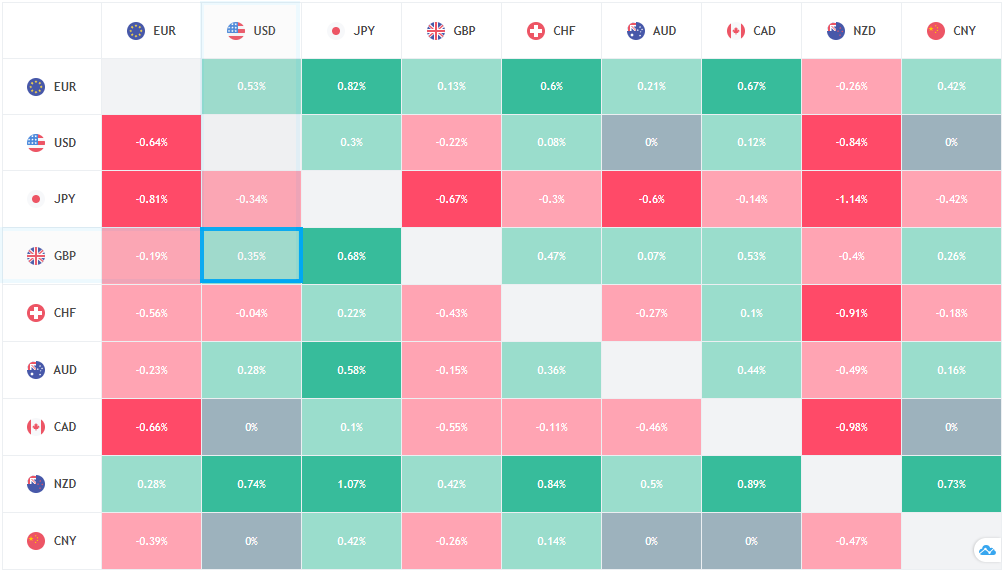 GBP/USD – The Great British Pound has increased by 0.35% against the U.S Dollar by 0.35% in the past day, and also, the GBP had decreased by -0.19% against the EUR(Euro) at the same day.
---
Summary
The Heat Map will show you the daily change of one currency against other currencies, however, using only technical analysis cannot help you determine whether a trend will continue or not.
It is recommended combining this information with other technical analysis tools as well as fundamental analysis of economies and currencies, and that will help you to make a proper decision.
Are you using the forex heat map? did you found this article useful? do you have any questions?
Stay tuned and share your opinion by commenting below.