NVIDIA Overview
NVIDIA Corporation (NASDAQ: NVDA), a technology giant known for its graphics processing units (GPUs) for gaming and professional markets, has been a significant player in the tech industry and a key focus for those interested in NVIDIA stock. With its advancements in AI, deep learning, and automotive tech, NVIDIA has positioned itself as a frontrunner in the innovation race.
Recent Performance Of NVIDIA stock
As of today, NVIDIA stock is priced at $466.82, experiencing a slight decrease of 0.33% in early trading. This follows a previous close at $468.35. Despite the minor fluctuation, the company's stock performance remains strong, reflecting its resilience and stronghold in the tech market. Read more on NVIDIA's financial performance.
Moving Average Analysis for NVIDIA Stock
When analyzing the moving average over the past six months, NVIDIA stock has shown a consistent upward trend. The stock began its journey at $181.82 and reached a high of $480.88. As of today, the stock is trading at $466.82, indicating a strong bullish sentiment among investors. Check out this detailed analysis on NVIDIA's stock trends.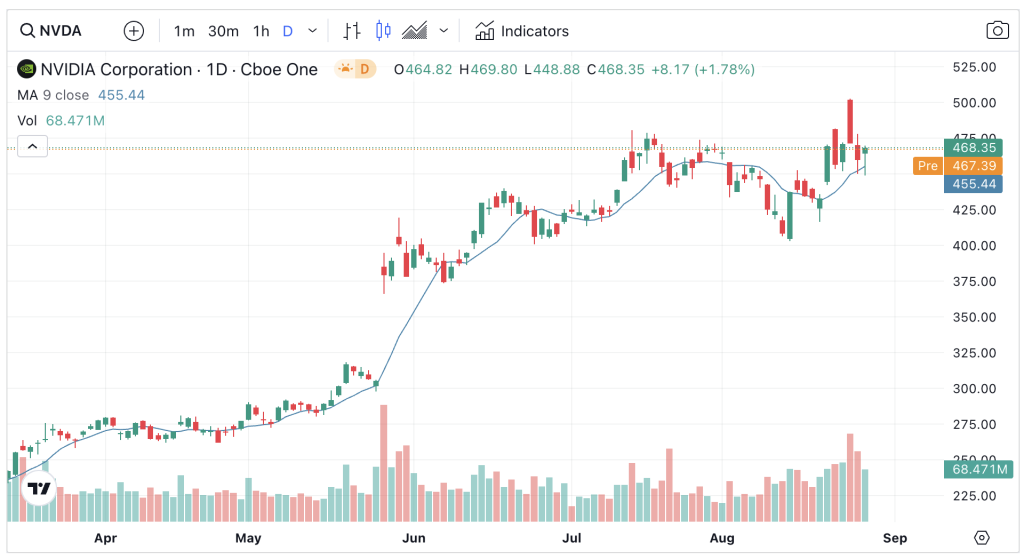 Click here to learn more about how to use a Moving Average
Note: The moving average values are based on the volume-weighted average price for each month.
Future Projections
NVIDIA's future looks promising, especially with its ventures into AI and automotive technologies. The company's recent collaborations and product launches, such as the NVIDIA DRIVE platform for autonomous vehicles, indicate a clear roadmap for growth. Additionally, NVIDIA's foray into data centers and cloud computing positions it well in a market that's poised for exponential growth.
Conclusion
NVIDIA's stock performance is a testament to its innovative prowess and strategic market moves. For investors looking to tap into the tech industry's potential, NVIDIA presents a compelling option. As the company continues to break barriers in AI, gaming, and automotive tech, its stock is likely to mirror its success. Explore more about NVIDIA's innovations and market strategies.
Disclaimer: Investing in stocks involves risks. Always conduct thorough research and consult with a financial advisor before making any investment decisions.