The Dollar is the King!
As a lot is going on in the world, one thing remains the same and that is the undisputed king of the markets – The Dollar.
Dollar Index, Crude Oil, and Gold.
Dollar Index – The currency remains very strong as concerns in the market regarding the mutual tariffs between U.S/China/EU have escalated during the past week and as it appears as of now looks like no imminent solution to calm things down – on the contrary.
Oil – got frisky yesterday with drops of more than 6% after the inventories came out and remained balance above the 70 rate at the end of the session – as Saudi Arabia announced a willingness to provide everything Iran will not be able to…
Gold – As the dollar grows strong the Commodity gets weaker and as of now shows signs of reaching previous support levels at 1,236/1,200 – if the strength will continue this way…
Earnings season – gaining momentum and suppose to reach the interesting points starting next week as the FAANG start reporting with Netflix and towards the end of the month Amazon 26/07, Apple 31/07, Google 23/07, Facebook 25/07.
As of now, these stocks are behaving as the backrest of the market as they support the upraise of the majority of the Indices and especially the Nasdaq as it floats in new highs…
Facebook

Pay attention to the upcoming results of Netflix as they will create the first signal on the upcoming ones…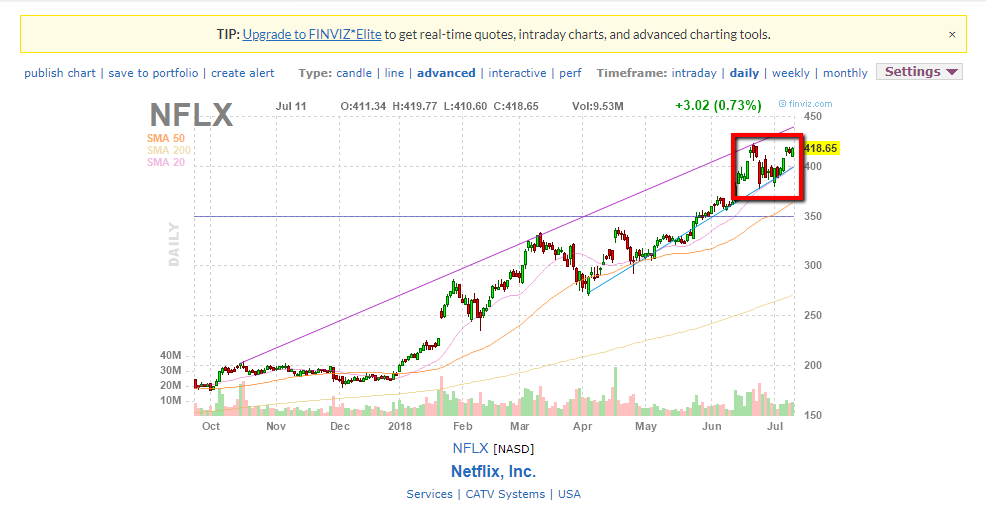 Share your opinion below, and stay tuned.