This week is nothing short than critical for the financial markets as several events should mean high importance such as:
* Mid-Term Elections U.S(November 6, 2018) – Midterm elections in the United States are the general elections held in November every four years, near the midpoint of a president's four-year term of office. Federal offices that are up for election during the midterms are members of the United States Congress, including all 435 seats in the United States House of Representatives, and 33 or 34 of the 100 seats in the United States Senate.
In addition, 34 of the 50 U.S. states elect their governors to four-year terms during midterm elections, while Vermont and New Hampshire elect governors to two-year terms in both midterm and presidential elections. Thus, 36 governors are elected during midterm elections. Many states also elect officers to their state legislatures in midterm years. There are also elections held at the municipal level. On the ballot are many mayors, other local public offices, and a wide variety of citizen initiatives.
* Sanctions On Iran (4/5 of November)- The sanctions ban any transactions with Iran involving United States dollar bank notes, gold, precious metals, aluminum, steel, commercial passenger aircraft, and coal, and they end imports into the United States of Iranian carpets and foodstuffs.
U.S. sanctions go into effect on Nov. 4. Also, global demand has remained strong in the face of trade tensions.  
These events will most likely affect the market through a course of time of more than a week or two – and we will see a continues effect.
Dow Jones – the bearish momentum continues and the trend looks as if will continue until a major effect will reverse the trend as we can see in the chart below:
Oil – The "Black Gold" is expected to be very volatile this week and the next as the sanctions will be imposed on Iran – while some OPEC countries are trying to cover for any production deficits that will occur from Iran absence starting next week – countries like Saudi Arabia/Emirates – can it hold?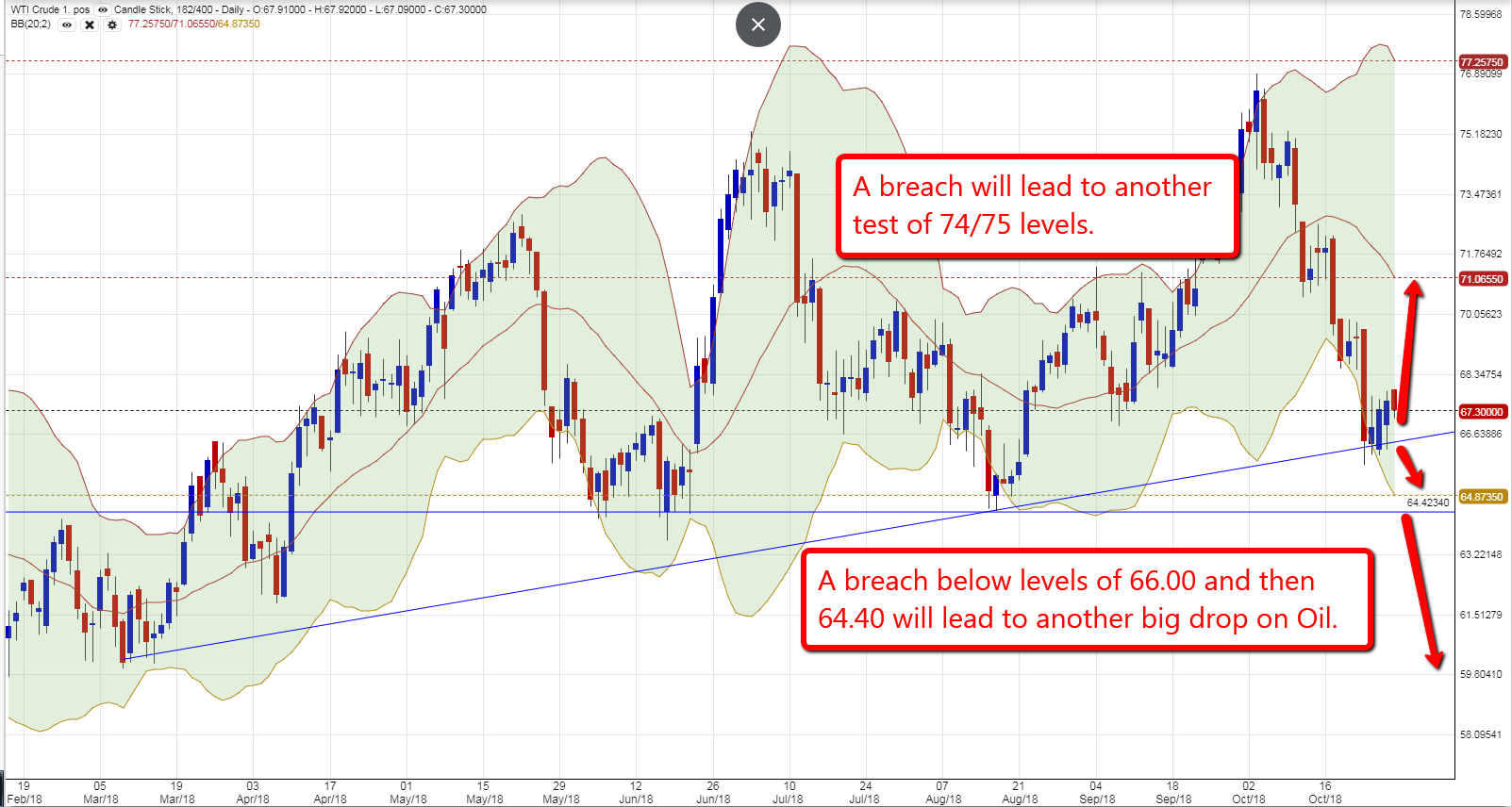 So overall all we are talking about a potential movement of 10% on the Dow Jones each way depending on the elected party – when Republicans are expected to push the financial markets upwards – and Democrats are expected to raise concerns on Trump Tax plan/Sanctions on Iran(so might push the prices low again if will manage to cancel the new sanctions) – we can expect an interesting 2 weeks…
Comment below and Stay Tuned – more to come…