Mr. President
As time goes by and more is unfolded, it appears that Mr. Donald Trump is not really bound to any previous "rules of conduct" applied by previous presidents before him – as a matter of fact, he is trying his best to act exactly against all previous assumptions and behavior patterns others before him followed – and simply follows his own path.
One can argue or disagree – but cannot ignore the effect and the overall "New World Order" concept that is being told about and spoken of in prestige financial sites such as –  https://www.marketwatch.com/story/stock-investors-confront-the-once-unthinkable-a-new-world-order-2018-07-19
Yesterday Donald Trump said he is not pleased with the fact the Federal reserve bank is raising interest when the state of the economy is improving – read more here – https://www.marketwatch.com/story/trump-says-hes-not-happy-with-fed-raising-interest-rates-2018-07-19.
https://www.wsj.com/articles/donald-trump-says-not-happy-about-federal-reserve-interest-rate-increases-1532020248
As every other president in the past was very cautious not to "tell the fed" what to do – Donald Trump is not every other president – that's for sure.
---
Major Events
Dollar Index – Once this statement was released the Dollar responded in a sharp move down, as the president of the U.S wished for a competitor for the Chinese yuan(that is dropping heavily).
---

Gold – also responded in a very quick uprising and started a 12$ movement in just 45 minutes all that parallel to an announcement related to the Gold that reported the wrecks of a Russian battleship found with Gold of 130B estimated worth – https://www.cnbc.com/video/2018/07/18/wreck-Russian-warship-found.html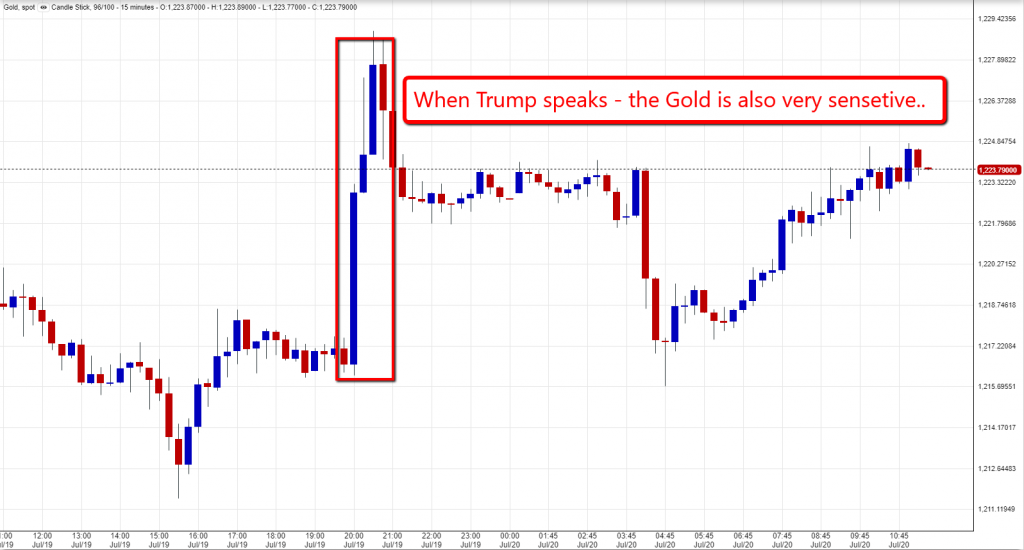 ---
GBP/USD – broke a major support level at 1.3048 and looks as if heading towards the next support at 1.2784 all that parallel to the Dollar index getting stronger and is heading towards new highs – the cable is just not in a position to hold strong against it.
The market remains the one thing you know will never be stable – and this is why we love it!
Comment below and share your opinion.