Crude Oil reversal
One thing we know about the markets – they are not expected and can throw us off our feet when we less expect it.
Oil which has all the indications for a bullish trend and fundamental reasons to higher price action dropped yesterday by up to 3% mid-session in order to close on 67$ per barrel – lowest price in 2 months.
The trend line maintains and keeps showing stronger indications for an upwards trend as shown in the chart below: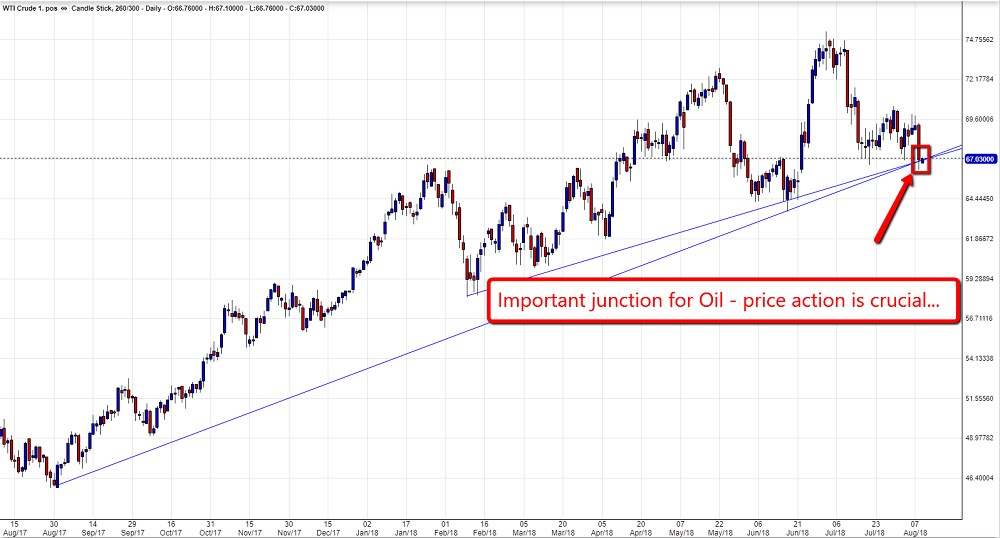 ---
Prince Alwaleed invest in Snap chat
Snap chat(symbol SNAP) received reinforcement yesterday as the Saudi prince(AKA Warren Buffet of the Middle East) purchased 2.3% of the company in a deal estimated size of 250M$.
As stated on CNBC – https://www.cnbc.com/2018/08/07/prince-alwaleed-says-he-has-acquired-a-2point3percent-stake-in-snapchat.html
Prince Alwaleed Bin Talal of Saudi Arabia announced he has purchased 2.3 percent of Snap.
On Tuesday, Prince Alwaleed tweet on his Twitter page that he made an investment of $250 million, at an average cost of $11 per share, on May 25. He initially met with Snap CEO Evan Spiegel and Imran Khan, the company's chief strategy officer, in 2015, when the two executives visited Riyadh.



إستثمرت ٩٥٠ مليون ريال سعودي لاتمام صفقة شراء حصة بنسبة ٢,٣٪ في شركة سناب شاتhttps://t.co/XXOgEvEB2W

I invested $250 Million to acquire 2.3% stake in @Snapchat companyhttps://t.co/bdAMGVw3DI pic.twitter.com/jBIiAfqy7t

— الوليد بن طلال (@Alwaleed_Talal) August 7, 2018
Who is Snap Chat? –  "Snapchat is one of the most innovative social media platforms in the world and we believe it has only just begun to scratch the surface of its true potential and we are blessed to be part of it," Prince Alwaleed said in a statement.
The one thing left to follow is how will the stock price behave once this release catches the eyes and ears of investors who pounded the stock since the IPO 18 months ago and pushed the price of the stock from 30$ per share towards 12.23$ per share(the closing price of yesterday session):
Leave your comment below and stay Tuned – more to come…