Today's review we will focus on the stocks market, that forms an amazing option for both directions…
FAANG – Facebook/Apple/Amazon/Netflix/Google.
Those stocks, literally hold the market from crashing – as some analysts suggest when judging their performance and taking under consideration their P/E(How many years it will take an investor to get back his original investment amount) – which in most cases is way to high – but the price action tells the story at the best way.
Facebook – At all times high after sustaining some bad publicity – but overcomes it very elegantly and keeps the amazing run upwards – currently at 197$ – is it the end? – what do you think?
Apple – Dropped from the previous high of 195$, and currently trading at 185.69$ – facing a possible turbulence from the Chinese market in case tariffs will continue, and the Dollar rate will continue to rise against the Yuan…
Amazon – This stock emphasizes the huge overpriced times we are in and the price keeps climbing although the P/E is massive in any scale – you will be the one to judge: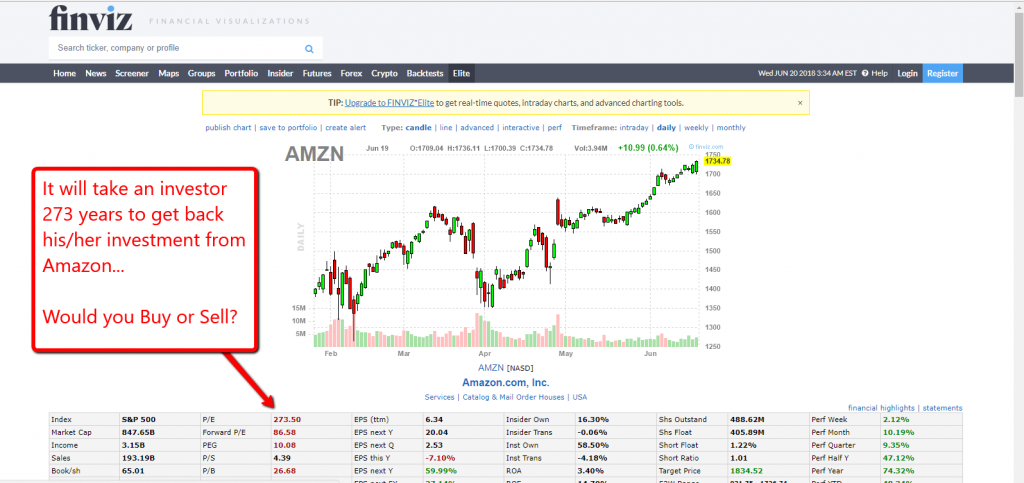 Netflix – Traded at all times high and just like Amazon, Netflix is traded at a massive P/E, and yesterday went up by 3.73% – how far will this run continue?

Google – suffered a temporary negative momentum and quickly returned, now Google back to be traded at all times high. P/E stands at 64 – what do you think?

The beauty of a 2 hedge market is the ability to benefit on both sides – ride the trend as it goes up – and ride it on its way down – choosing… that's the issue!
Share your opinion below, and stay tuned – more to come.