Important Events Expected
It is supposed to be a very interesting week as the entire week is filled with monetary decisions – AUD/JPY/EUR/CHF Interest rate meeting is priced in as 100% in the U.S !! – every other bank is simply responding(FOMC is expected at 9/26)…and the market expects the interest rate to rise again by the end of the year at least another time by December.
This usually means the Dollar is expected to grow stronger against other assets such as:
EUR/USD
GBP/USD
GOLD
SILVER
Events on the ForexFactory economic calendar. Click here and learn how to use it.
We started on Friday when the Gold dropped by 16$ per ounce due to a stronger Dollar + the EUR and the GBP dropped by 100/90 pips.
Gold – if the Dollar will increase further the Yellow commodity will suffer more weakness and the price action will most likely keep dropping.
EUR/USD – As the old continent expects the end of the stimulant plan by December the next interest rate decisions should be dramatically important for the EUR/USD…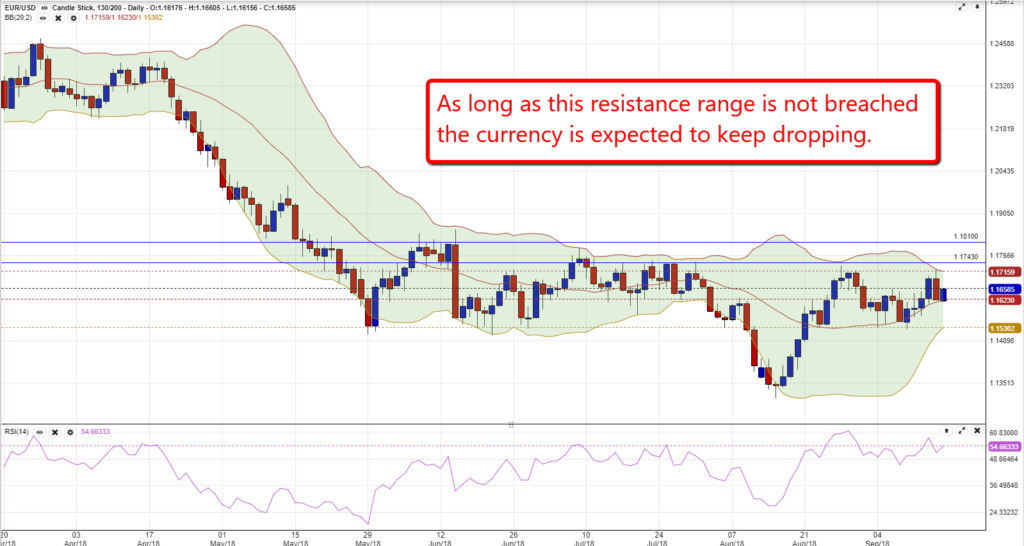 On top of all this, the trade war between U.S/China does not want to go away – the U.S says another 267$ Billion coming into effect, and the scope of products now expands to a wide array of consumer goods from China.
Speculations in the market right now are talking about this tension to continue and escalate(at least on Donald Trump's side) – and the effect will most likely move the market and create opportunities for traders and investors… https://www.marketwatch.com/story/why-president-trump-will-keep-escalating-the-trade-war-with-china-until-after-the-midterm-elections-2018-09-16
Stay tuned – Comment below and share your opinion…