This week will be a very interesting one due to several reasons:
1. Packed with announcements and information from the markets, please follow the economic calendar on the following link to be updated in real time on these announcements – https://www.forexfactory.com/calendar.php#closed.
2. Trade war concerns are increasing as Canada started imposing tariffs on U.S products for 12.6B so far…
3. Dollar Index continues the run as the week started and looks very bullish(still).
4. NFP(Non-Farm Payroll)- will be published this Friday will defiantly provide interesting trade option for traders and investors alike.
Several announcements will hit the market this week such as:
Manufacturing PMI(GBP) – Published today in 2 Hours.
ISM  Manufacturing PMI(USD) – Published today at 15:00 GMT.
Construction PMI(GBP) – Published tomorrow at 09:30GMT.
Retail Sales+Trade Balance(AUD) – Published on Wednesday.
ISM Non-Manufacturing PMI – Published on Thursday.
Crude Oil Inventories – Published on Thursday.
FOMC Meeting Minutes –  Published on Thursday.
Those announcements should create a lot of movements in an era of a very strong U.S Dollar, and it should be interesting to see how these currencies will behave…
Trade war concerns, refuse to go away and concerns are now validated by mutual threats and now escalated to actions – and it looks like it is only the beginning, unless leaders will choose to lower the flames, and to find mutual grounds – until that time -cautious is advised and keep following the latest news… https://www.marketwatch.com/story/canada-begins-imposing-tariffs-on-126-billion-of-us-goods-2018-07-01
https://www.marketwatch.com/story/trump-says-threat-of-auto-tariffs-is-biggest-weapon-in-trade-disputes-2018-07-01
https://www.marketwatch.com/story/trump-era-tariffs-are-hitting-this-one-industry-especially-hard-2018-06-29
Related assets to the Dollar Index – EUR/GBP/GOLD/SILVER – are expected to lose their strength, as the Dollar will grow stronger and as the charts show right now – the technical sections approves it…
EUR/USD – looks in a strong downtrend and is facing a major support level ahead – will it be breached?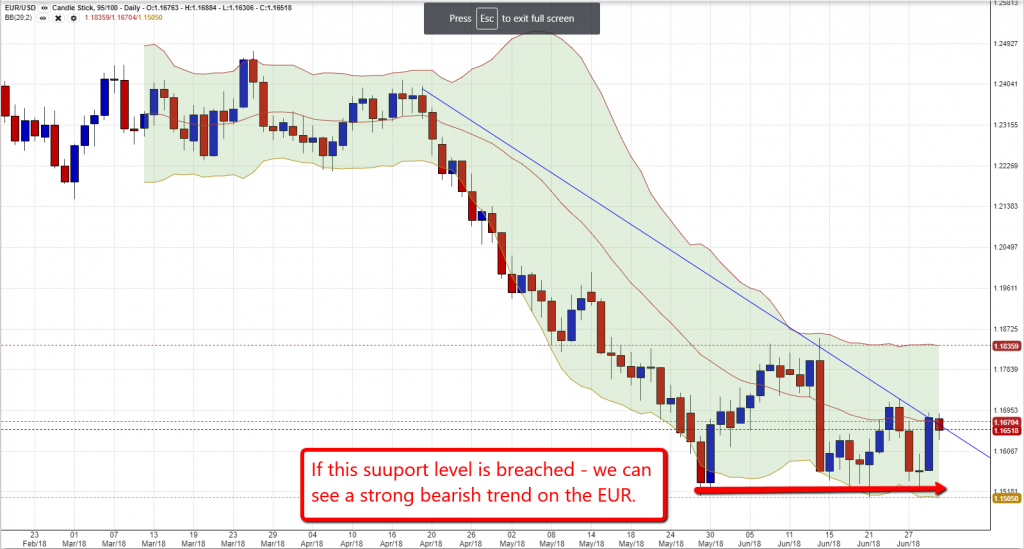 The GBP/USD looks also very bearish…
Gold – As it looks right now, the Gold is facing further bears as the daily chart does not look so good for Bulls(And as we mentioned last week – the "Death Cross" appeared…)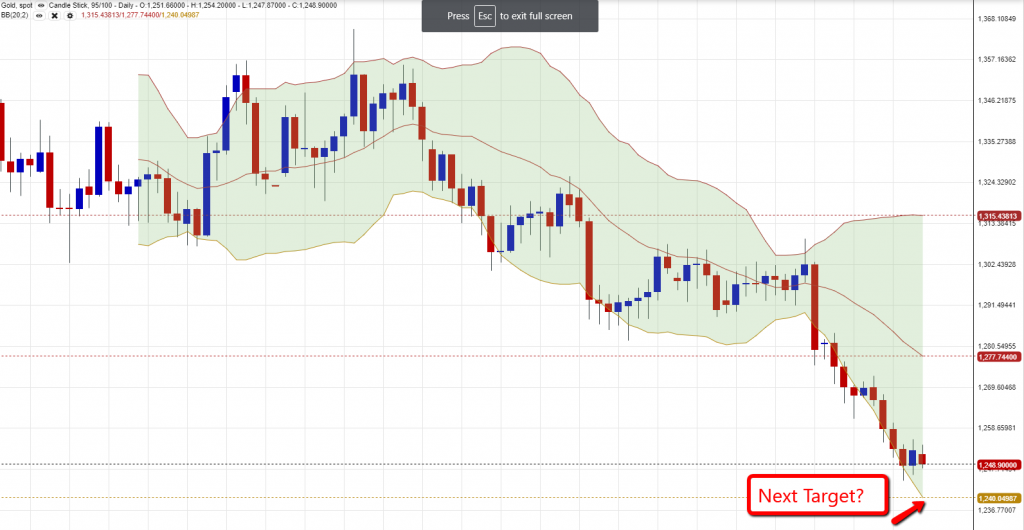 Finally, the Non-Farm Employment Change / Average Hourly Earnings m/m/ Unemployment Rate and the on Friday will generate a strong weeks end…
Should be very interesting – stay tuned – we are just starting the week.